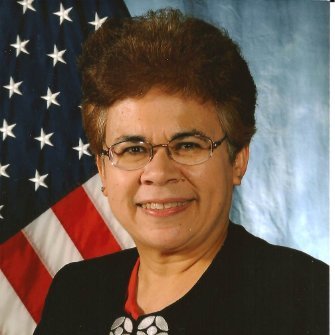 Dayton, OH, April 2021– NextGen Federal Systems has selected Ms. Aurea L. Rivera as Chief Scientist – Engineer. In this capacity, Ms. Rivera will lead NextGen's Research and Development programs for multiple IC agencies and across the DoD. She will also be responsible for the leadership and development of NextGen scientists and engineers.
A retired Defense Intelligence Senior Leader, she served as Technical Director for the Data Exploitation Group, National Air and Space Intelligence Center, Wright Patterson Air Force Base, Ohio. NASIC is the Air Force and Department of Defense Center of Excellence for all-source foreign air, space, and cyber-space intelligence. NASIC supports U.S. Air Force and joint operational, acquisition, and policy-making customers at the national intelligence community level.
"I am absolutely thrilled to get the chance to work with Aurea again," said Mike Ronayne, Vice President of Dayton Operations, "when I was in uniform, I spent many hours in her office where she provided mentorship and unsurpassed advice on technical execution of the mission. Looking forward to many successful years together at NextGen!"
"We have had very good initial success at NASIC and with some Intelligence Community solutions, but Ms. Rivera's accepting of the Chief Scientist role at NextGen immediately scales our ability to develop and deliver a broad range of new innovative solutions" said Chetan Desai, Chief Operating Officer for NextGen Federal Systems.
Ms. Rivera is originally from Mayaguez, Puerto Rico, where she graduated with honors from the University of Puerto Rico in 1980. She was one of only six females graduating with a degree in electrical engineering that year. She began her career with NASA, Goddard Space Flight Center as a satellite support analyst (COOP Intern) and has since held a variety of engineering and senior technical management position within the Intelligence Community and industry. Aurea served as the Air Force representative to the Scientific and Technical Intelligence Committee and the Air Force alternate for the Weapons and Space Systems Intelligence Committee. Her last government senior assignment was as Chairperson, Foreign Instrumentation Signal's Senior Steering group, Signals Intelligence Committee.
Aurea is a Professional Engineer (State of Ohio), a certified Project Management Professional (PMP), and a Project Management Institute Agile Certified Practitioner (PMI-ACP). She has an MBA from Michigan Technological University and a Masters' Degree from the University of Dayton (Electromagnetic Theory and Propagation) and Wright State University (Systems Engineering). Aurea is the Engineers Foundation of Ohio's Chairperson for MATHCOUNTS (mathematics competition for sixth, seventh, and eighth graders) and serves in the Dayton Society of Professional Engineers' board. During her limited free time, she enjoys boating, golf, and a good football game.
Before her new assignment at NextGen Federal Systems, Ms. Rivera served as Senior Advisor to the Intelligence Defense Solutions, Riverside Research Institute, Dayton, Ohio, supporting the Intelligence Mission Data Program Office and the Measurement and Signatures Squadron at NASIC.
###
NextGen is an innovative information technology and professional services provider specializing in agile software solutions as well as comprehensive mission and business support services. We design, develop, implement, and manage information technology (IT) solutions that measurably improve our customer's organizational performance. Our core areas of expertise include C5ISR Software Development, Modern IT Systems Engineering, Modeling and Simulation, Cyber Security & Data Management. NextGen adheres to industry standard practices and processes including CMMI, ISO, and PMBOK.
For more information on NextGen, contact Mike Ronayne at 937.708.0320