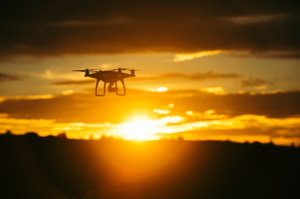 NextGen Federal Systems (NextGen), an innovative information technology small business, has recently been awarded a Small Business Innovation Research (SBIR) Phase I contract by the US Army. Under this R&D contract, NextGen will develop the Autonomous Environmental Routing Onboard (AERO) system to enable Swarming Drones to sense, react, and learn from the environment. AERO will reduce environmental impacts and optimize drones' autopilot navigation to improve overall mission success.
AERO's embedded solution is a modular framework centered around a companion computer installed onboard drones. The companion computer interfaces with attached environmental sensors, tactical communications, and autopilot systems. Leveraging these components, AERO will collaborate with other drones, ground stations, and airborne networks to generate and use high resolution environmental models to improve drones' autopilot navigation. AERO integrates with the Army Research Laboratory's Automated Impacts Routing (AIR) software to optimize the drones' waypoints based on impacts associated with the environmental models. The US Army has multiple initiatives to utilize swarming drones as part of the tactical mission command capabilities that will benefit from the embedded AERO system.
"NextGen's extensive experience in weather processing and exploitation, embedded systems, and drones uniquely positions us to provide the US Army, and other Government and commercial markets with AERO's innovative capabilities" said Eric Babyak, Principal Investigator for NextGen.
NextGen's AERO system will also provide drone swarms with the ability to leverage favorable environmental conditions, expanding flight time while also improving onboard sensor performance and enhancing mission capabilities. Applications for AERO include addressing additional Defense and Government needs, and extending to commercial industry for corporations investing in drone swarms such as Amazon and Google.
"AERO provides important functionality to future drones, allowing drone swarms to measure and model their environment to make critical decisions that improve mission success without need for a human-in-the-loop.", said Babyak.
The SBIR program is a highly competitive program created to spurn scientific excellence and technological innovation through the investment of federal research funds in critical American priorities to build a strong national economy. The SBIR program encourages small businesses through Government investments to conduct research and development that leads to development of technology and new discoveries that can be commercialized within Government and Commercial markets.
###
About NextGen
NextGen is an innovative information technology and professional services provider specializing in advanced software solutions as well as comprehensive mission and business support services. Our approach is to design, develop, implement, and manage information technology (IT) solutions that measurably improve our customer's organizational performance. NextGen utilizes a mixed model consisting of mission services and solution development in support of C4ISR critical systems. Our core areas of expertise include C4ISR Software Development, Modern IT Systems Engineering, Modeling and Simulation, and Cyber Security & Data Management. NextGen adheres to industry standard practices and processes including CMMI, ISO, and PMBOK. NextGen places emphasis on recruiting top talent through our proven employee ownership method. We aggressively manage internal costs to ensure competitive salaries for top talent while ensuring cost-effective delivery to our customers
For more information on NextGen, contact Arica Rohn at 937-314-4179.