Inc. magazine ranked NextGen on its 36th annual Inc. 500 list, the most prestigious ranking of the nation's fastest-growing private companies. The list represents a unique look at the most successful companies within the American economy's most dynamic segment— its independent small and midsized businesses. Companies such as Microsoft, Dell, Domino's Pizza, Pandora, Timberland, LinkedIn, Yelp, Zillow, and many other well-known names gained their first national exposure as honorees of the Inc. 5000. Inc. 500 list is the subset of Inc. 5000's fastest growing 500 companies. "Being included in this prestigious list of fast growing companies for two years in a row is the testament to the growth we've sustained since 2012," said NextGen Senior Vice President Chetan Desai. "Our success derives from our employees' passion and drive to exceed expectations and work in partnership with our clients and partners to deliver results," he added.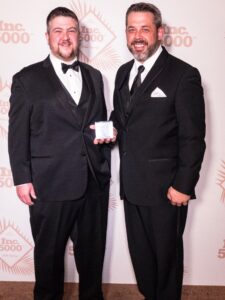 This is NextGen's second consecutive year making the Inc. 500 list. This impressive growth is also attributed to the company's dedication to providing its employees with a voice in our direction and a stake in our success. Our customers see us as a business that is fair and reasonable and one that is collaborative, agile, and has a competitive drive. "We hope to remain in this list of distinguished companies for years to come," said Jay Reddy, CEO of NextGen. "NextGen strives to offer innovative solutions to our client's most pressing problems, and our growth each year is representative of our ability to meet the demands of our customer's needs." The 2017 Inc. 5000, unveiled online at Inc.com with the top 500 companies featured in the September issue of Inc., is the most competitive group in the list's history. The average company on the list achieved a mind-boggling three-year average growth of 481%. The Inc. 5000's aggregate revenue is $206 billion, and the companies on the list collectively generated 619,500 jobs over the past three years. Complete results of the Inc. 5000, including company profiles and an interactive database that can be sorted by industry, region, and other criteria, can be found at www.inc.com/inc5000. "The Inc. 5000 is the most persuasive evidence I know that the American Dream is still alive," says Inc. President and Editor-In-Chief Eric Schurenberg. "The founders and CEOs of the Inc. 5000 tell us they think determination, risk taking, and vision were the keys to their success, and I believe them."
More about Inc. and the Inc. 5000
Methodology The 2017 Inc. 5000 is ranked according to percentage revenue growth when comparing 2013 to 2016. To qualify, companies must have been founded and generating revenue by March 31, 2013. They had to be U.S.-based, privately held, for profit, and independent—not subsidiaries or divisions of other companies—as of December 31, 2016. (Since then, a number of companies on the list have gone public or been acquired.) The minimum revenue required for 2013 is $100,000; the minimum for 2016 is $2 million. As always, Inc. reserves the right to decline applicants for subjective reasons. Companies on the Inc. 500 are featured in Inc.'s September issue. They represent the top tier of the Inc. 5000, which can be found at http://www.inc.com/inc5000.
###
About NextGen
NextGen is an innovative information technology and professional services provider specializing in advanced software solutions as well as comprehensive mission and business support services. Our approach is to design, develop, implement, and manage information technology (IT) solutions that measurably improve our customer's organizational performance. NextGen utilizes a mixed model consisting of mission services and solution development in support of C4ISR critical systems. Our core areas of expertise include C4ISR Software Development, Modern IT Systems Engineering, Modeling and Simulation, and Cyber Security & Data Management. NextGen adheres to industry standard practices and processes including CMMI, ISO, and PMBOK. NextGen places emphasis on recruiting top talent through our proven employee ownership method. We aggressively manage internal costs to ensure competitive salaries for top talent while ensuring cost-effective delivery to our customers For more information on NextGen, contact Arica Rohn at 937-314-4179.