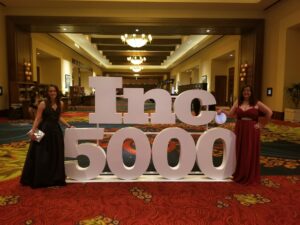 Morgantown, W.Va. (November 2018)
– For the third year in a row, NextGen Federal Systems, LLC, an innovative information technology and professional services provider headquartered out of Morgantown, West Virginia, was named one of Inc. 5000's fastest-growing private companies in America. Team members proudly accepted the plaque at the Inc 5000 Conference and Gala in San Antonio, Texas. The Inc. 5000 is a ranking of the country's top 5000 fastest-growing private companies based on the percentage of revenue growth over a four-year period. NextGen has shown steady growth since its inception, including a three-year revenue growth of 450 percent. "This is a tremendous accomplishment for NextGen," said Senior Vice President, Chetan Desai. "We are still a small company, but we are dedicated to continuous growth." NextGen was founded in 2011 by Jay Reddy, the previous owner and CEO of ProLogic. Over the past 7 years, NextGen grew from a one-person business to over 100 employees across three locations, Morgantown, West Virginia, Dayton, Ohio, and Aberdeen, Maryland. This year marked the 37th annual Inc. 5000 Conference and Gala. Keynote speakers this year included, Joel McHale, comedian and actor, Gretchen Rubin, author of The Happiness Project, and Bert Jacobs, co-founder of Life is Good.
###
About NextGen
NextGen is an innovative information technology and professional services provider specializing in advanced software solutions as well as comprehensive mission and business support services. Our approach is to design, develop, implement, and manage information technology (IT) solutions that measurably improve our customer's organizational performance. NextGen utilizes a mixed model consisting of mission services and solution development in support of C4ISR critical systems. Our core areas of expertise include C4ISR Software Development, Modern IT Systems Engineering, Modeling and Simulation, and Cyber Security & Data Management. NextGen adheres to industry standard practices and processes including CMMI, ISO, and PMBOK. NextGen places emphasis on recruiting top talent through our proven employee ownership method. We aggressively manage internal costs to ensure competitive salaries for top talent while ensuring cost-effective delivery to our customers For more information on NextGen, contact Arica Rohn at 937-314-4179.