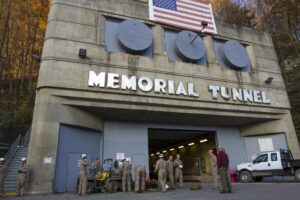 Morgantown, W.Va. (November 2018) –
NextGen Federal Systems was recently awarded a contract to help provide enhanced virtual training for military personnel. The effort is focused on adding virtual training elements to the Memorial Tunnel Training Complex, which is operated by the West Virginia Army National Guard and located in Galloway, West Virginia. The 2,800-foot tunnel was formerly used as a two-lane highway tunnel until being replaced with an interstate bypass. According to the WVARNG, the tunnel is now a unique facility that provides several training scenarios including post-blast events, transportation mishaps, and weapons of mass destruction laboratories. The enhanced training component developed by NextGen will support a range of Chemical, Biological, Radiation, Nuclear, and Explosive (CBRNE) incident scenarios that include fire, smoke, simulated screams of injured and trapped personnel to simulate possible crisis situations and corresponding decontamination, evacuation, and other safety/response measures. "The Memorial Tunnel Training Complex already provides an extremely valuable training experience for our military and first responders," said Joe Robertson, NextGen's division manager. "We are really excited to assist our customer in taking this training to the next level." As part of the contract effort, NextGen will develop a hardware and software system to support virtual reality and augmented reality training scenarios to significantly reduce cost. The virtual reality-based training will support immersive distance learning and the augmented-reality based software will enhance onsite training by providing a multiplayer, augmented reality training component.
###
About NextGen
NextGen is an innovative information technology and professional services provider specializing in advanced software solutions as well as comprehensive mission and business support services. Our approach is to design, develop, implement, and manage information technology (IT) solutions that measurably improve our customer's organizational performance. NextGen utilizes a mixed model consisting of mission services and solution development in support of C4ISR critical systems. Our core areas of expertise include C4ISR Software Development, Modern IT Systems Engineering, Modeling and Simulation, and Cyber Security & Data Management. NextGen adheres to industry standard practices and processes including CMMI, ISO, and PMBOK. NextGen places emphasis on recruiting top talent through our proven employee ownership method. We aggressively manage internal costs to ensure competitive salaries for top talent while ensuring cost-effective delivery to our customers For more information on NextGen, contact Arica Rohn at 937-314-4179.