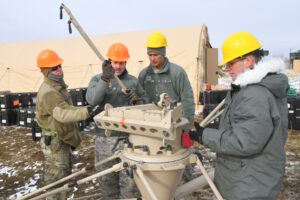 Morgantown, W.Va. (December 2018) – NextGen Federal Systems (NextGen) was recently awarded a contract by the United States Air Force to provide technical support at 13 Air Control Squadron (ACS) Control and Reporting Center (CRC) locations across the country. Additionally, the support will include, ACS locations in Puerto Rico and Aviano, Italy. Other direct support will include the Air Combat Command (ACC) headquarters in Langley, Virginia, the Tobyhanna Army Depot, and several CRC software and hardware testing and integration sites.
NextGen will provide subject matter expertise, engineering and assist the Air Control Squadrons in maintaining the primary equipment for the CRC family of systems. This "family" of CRC systems includes: radar, control equipment, tactical information systems, digital aviation interrogation, radio and voice systems, tactical datalink gateways, tactical operation center situational awareness displays, and network equipment.
"NextGen looks forward to supporting the warfighters in the Air Control Squadrons on this program. This contract is a good fit for NextGen and the U.S Air Force," said Jay Reddy, founder and CEO of NextGen Federal Systems. "Our subject matter experts have the required skill sets to support CRC operators and maintainers."
In addition to technical support, NextGen will provide field representative services for system integration; modification and upgrade for software, firmware and hardware; developmental, operational, and system acceptance testing; installation of equipment; and end-user technical training. The contract was awarded for a five-year period of performance.
"As NextGen continues to grow, we are planning to provide similar information technology services to our customers across the Department of Defense," said Reddy.