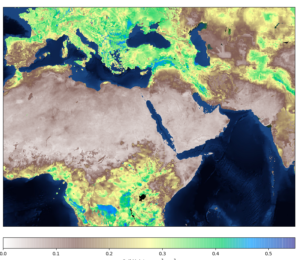 Morgantown, W.Va., (February 2019) – NextGen Federal Systems was awarded a Phase I Small Business Innovation Research contract from the United States Air Force to conduct a feasibility study for global soil moisture forecast modeling using innovative data fusion and machine learning methods.
The Soil Moisture Algorithm Research and Testing project, also known as SMART, leverages multiple weather data sources and uses state-of-the-art data processing, fusion and machine learning to model global soil moisture forecast. SMART is based on commercial capabilities from IBM and an IBM subsidiary, The Weather Company (TWC).
"NextGen's knowledge of the Air Force Weather (AFW) architecture, Department of Defense (DoD) weather capabilities, products, and data will be applied to implement a viable solution," said Alec Engell, senior scientist for NextGen and principal investigator for the project.
This technology could potentially be used to quickly provide critical weather information and forecasts during ground military operation planning. Currently, the Department of Defense (DOD) relies on data and weather forecasting tools from the military, U.S. civil government, and international partner satellite sensors for Air Force Weather missions.
During 2018, the Air Force SBIR program released a special topic seeking solutions to advance space weather observations, models, and predictions for supporting the transition of new capabilities from research to operations with more collaboration from industry. NextGen was awarded a three-month contract to demonstrate the capability to produce the global soil moisture measurements developed by IBM and its subsidiary.
In addition to the DoD, soil moisture forecasting has applications in the agricultural industry where it could help maximize global crop production. "There are many DoD and commercial applications for accurate soil moisture forecasting," said Chetan Desai, Senior Vice President of NextGen. "We are excited to develop this global product and make a positive impact to the AFW mission."