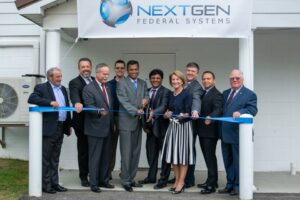 MORGANTOWN, West Virginia - NextGen Federal Systems celebrated the grand opening of its Engineering Center in Morgantown on Thursday, August 22nd. U.S. Sen. Shelley Moore Capito and U.S. Rep. David McKinley spoke at the event, congratulating the company on its expansion in the region and for bringing high-paying professional jobs to Morgantown, WV.
Senior Vice President Chetan Desai said the opening of NextGen's Engineering Center in Morgantown represents an exciting new phase for the company. "We look forward to designing and developing new drone, sensor, machine learning, and data analytics technologies."
NextGen announced in early 2019 that they were opening an office on Cheat Road in Morgantown to support the company's Research, Development, and Engineering plans, and continue to expand its relationship with West Virginia University. The West Virginia-based NextGen also has offices in Aberdeen, MD and Beavercreek, OH. The Morgantown expansion represents a major addition to the 100+ person, employee-owned company. Over the past year, NextGen has already hired 40 full-time and part-time employees.

NextGen has worked closely with the Small Business Administration's (SBA's) HUBZone Program, which was created to encourage the participation of small businesses in government contracts. "That assistance," Desai said, "has been vital to our growing success in the region." This program helps small businesses in urban and rural communities gain preferential access to federal procurement opportunities.
NextGen started in 2011 as a small business, focusing on the Army Aberdeen Proving Ground in Maryland. They opened their first office in Morgantown, WV as their corporate headquarters adjacent to West Virginia University.

NextGen founder Jay Reddy has a proven track record as an entrepreneur and hopes to build on that legacy in Morgantown. In 1995, Reddy founded ProLogic, an 8(a) business in Fairmont, WV with 17 offices nationwide. ProLogic grew to 350 employees, $300 million in prime contracts, and $65 million in revenue. It was acquired by Ultra Electronics in 2008.
For more information on NextGen, visit www.nextgenfed.com or contact Jenny Robbins at (304) 435-3246.
###
About NextGen
NextGen is an innovative information technology and professional services provider specializing in advanced software solutions as well as comprehensive mission and business support services. Our approach is to design, develop, implement, and manage information technology (IT) solutions that measurably improve our customer's organizational performance. NextGen utilizes a mixed model consisting of mission services and solution development in support of C4ISR critical systems. Our core areas of expertise include C4ISR Software Development, Modern IT Systems Engineering, Modeling and Simulation, and Cyber Security & Data Management. NextGen was recognized by INC.500 as the 211th fastest growing business in the United States for 2016. NextGen adheres to industry standard practices and processes including CMMI, ISO, and PMBOK. NextGen is rated CMMI Institute's Capability Maturity Model Integration (CMMI)® Maturity Level 2 which indicates that NextGen's work and processes have received the highest form of third-party validation. NextGen places emphasis on recruiting top talent through our proven employee ownership method. We aggressively manage internal costs to ensure competitive salaries for top talent while ensuring cost-effective delivery to our customers. For more information on NextGen, contact Jenny Robbins at 304-435-3246.