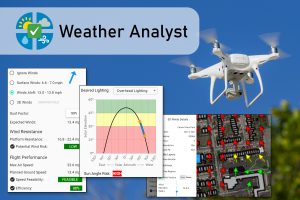 Morgantown, W.Va., April 9, 2020 – NextGen has released a beta version of Weather Analyst, a new app for the DroneDeploy marketplace. This app is now available online to registered users of the drone software platform who want to optimize their drone operations for weather conditions
The Weather Analyst app is an exclusive tool that assists users with drone flight planning. Utilizing local forecasts and microscale weather simulations, this innovative software analyzes issues and risks for planned flights, for instance, wind impacts and sun lighting. Weather Analyst is valuable for users across multiple drone markets, including drone operators in government or professional industries, such as agriculture, construction, mining, inspection, and oil and gas. The benefits of pre-flight weather analysis will guide flight decisions, reduce risks and save time, in turn boosting the consumer's profitability.
NextGen's Internal Research and Development team was successful in combining two areas of ongoing innovation for the company with the launch of this beta software, as well as entering the commercial software sector. "Release of the Weather Analyst app shows that NextGen can apply our skills in drone mission planning and complex weather analysis from Air Force projects to the commercial market," said Jeremy Loomis, NextGen Chief Software Architect.
NextGen is proud to partner with DroneDeploy, the largest global drone data platform, to distribute the Weather Analyst app to its dedicated customers. DroneDeploy comprises the leading software and integrations for managing drone operations in more than 180 countries with cutting-edge apps for drone mapping and analytics.
The Weather Analyst app is available now for free download through DroneDeploy via their website, App Store, or the Play Store. Plans for a second release are already underway for later this year.
###
NextGen is an innovative information technology and professional services provider specializing in advanced software solutions as well as comprehensive mission and business support services. Our approach is to design, develop, implement, and manage information technology (IT) solutions that measurably improve our customer's organizational performance. NextGen utilizes a mixed model consisting of mission services and solution development in support of C5ISR critical systems. Our core areas of expertise include C5ISR Software Development, Modern IT Systems Engineering, Modeling and Simulation, and Cyber Security & Data Management. NextGen adheres to industry standard practices and processes including CMMI, ISO, and PMBOK.
For more information on NextGen, contact JP Lapps at (443) 502-8649.