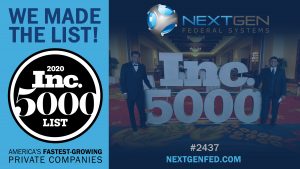 Morgantown, WV – NextGen Federal Systems is named one of America's Fastest Growing Companies as Inc. 5000 unveils its 2020 list. For the fifth consecutive year, NextGen is recognized by Inc. magazine as a top private company with a proven track record for revenue growth on its annual list of most prestigious national companies.
NextGen, a HUBZone certified small business, has shown steady growth since its inception in 2011 with a revenue growth of 170 percent over the last three years. Our continued success as an innovative information technology and professional services provider is a sign of the commitment and dedication of our leadership team and talented professionals in an ever-changing, competitive market.
"It's an honor to be recognized once again by the Inc. 5000 and ranked alongside so many remarkably innovative businesses," said Senior Vice President, Chetan Desai. "Our growth is a testament to our amazing team that has helped transform NextGen into what we are today. Throughout our path from a startup firm nine years back to a business with six office locations and employees in over twenty states, our team has focused on customer success as a core tenet that has supported our growth."
NextGen, which ranked at 2437, is headquartered in Morgantown, West Virginia and is one of only four companies to receive this designation in the state this year. Previous rankings have been 1703 in 2019, 1096 in 2018, 440 in 2017, and 211 in 2016.
Complete results of the Inc. 5000, including company profiles, can be found at www.inc.com/inc5000.