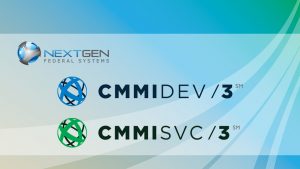 Morgantown, W.Va., (October 16, 2020) — NextGen Federal Systems (NextGen) has been appraised at maturity level 3 of the CMMI Institute's Capability Maturity Model Integration (CMMI)® for Software Development and Service Delivery. The appraisal was performed by Norausky Process Solutions.
CMMI is a process improvement framework that provides organizations with the essential elements of effective processes that improve their performance, resulting in successful customer deliveries. NextGen had been previously appraised at maturity level 2 for Software Development.
Being appraised at maturity level 3 indicates NextGen is performing at a "defined" level. Processes are well-characterized and understood, and are described in standards, procedures, tools, and methods. NextGen's set of standard operating procedures provides the basis for maturity level 3 and has been established and improved over time.
"We are excited that NextGen has successfully achieved CMMI Maturity Level 3 for both software development and service delivery," said Joe Robertson, Vice President and Group Manager. "Being appraised at CMMI Maturity Level 3 gives our customers confidence that we will always deliver on requirements with a goal of exceeding expectations."
NextGen is a HUBZone Certified Small Business founded in 2011 providing innovative professional services and scientific and technical capabilities, specializing in comprehensive mission and business support services.
To learn more about how CMMI helps organizations elevate their performance, visit CMMIInstitute.com.
###
NextGen is an innovative information technology and professional services provider specializing in agile software solutions as well as comprehensive mission and business support services. We design, develop, implement, and manage information technology (IT) solutions that measurably improve our customer's organizational performance. Our core areas of expertise include C5ISR Software Development, Modern IT Systems Engineering, Modeling and Simulation, and Cyber Security & Data Management. NextGen adheres to industry standard practices and processes including CMMI, ISO, and PMBOK.
For more information on NextGen, contact Dave Bissett at (443) 502-8649.