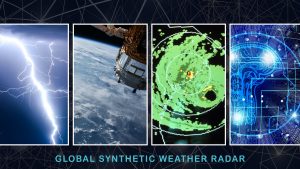 Morgantown, W.Va., (December 2020) – NextGen Federal Systems was awarded the Global Synthetic Weather Radar (GSWR) Research to Operations (R2O) contract by the US Air Force. MIT Lincoln Laboratory's (MIT LL) research effort established the viability of leveraging available observation data as input to Machine Learning (ML) algorithms to derive radar-like data. Operationalizing the GSWR research capability will provide awareness of potentially dangerous weather in regions where weather radar coverage is not available. This program will enable NextGen to make a significant contribution to the Air Force Weather mission and consequently to the safe and successful execution of military operations worldwide.
Partnering with Raytheon Intelligence & Space, the team will cybersecure and modernize GSWR for operations; providing a modern, sustainable GSWR capability within the Air Force Weather Virtual Private Cloud. The NextGen team will use proven DevSecOps processes to deploy the ML training methodology and production engine to provide a robust, enhanced global precipitation weather radar forecasting capability.
"I cannot emphasize enough how important this work will be," said Jack Suther, Senior Systems Engineer at NextGen. "When I was deployed supporting Operation Iraqi Freedom, we didn't have any weather radar for the first four months. To have had GSWR's capabilities would have been a godsend. GSWR will not only lead to more successful military operations, it will save lives."
This effort leverages NextGen's expertise in Machine Learning, Cloud Computing, Modern Software Practices, and Weather Effects Modeling. NextGen is positioned to apply revolutionary ML methods to an exponentially growing domain of previously insurmountable challenges to help our military in regions around the globe.
Approved for public release: AF PA Case Number 66ABG-20-66 Jan 04 2021.
###
NextGen is an innovative information technology and professional services provider specializing in agile software solutions as well as comprehensive mission and business support services. We design, develop, implement, and manage information technology (IT) solutions that measurably improve our customer's organizational performance. Our core areas of expertise include C5ISR Software Development, Modern IT Systems Engineering, Modeling and Simulation, Cyber Security & Data Management. NextGen adheres to industry standard practices and processes including CMMI, ISO, and PMBOK.
For more information on NextGen, contact Daryl Everding at (513) 392-1228.