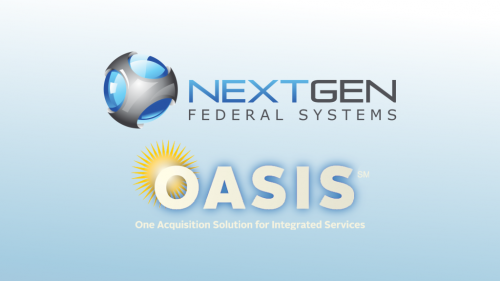 Morgantown, W.Va., February 2021 – NextGen Federal Systems was awarded OASIS SB contracts in Pools 1 and 3 by the General Services Administration (GSA). GSA's OASIS is a multiple-award, Tier 3/Best-In-Class (BIC) IDIQ contract that provides government agencies access to core disciplines including program management, management consulting, scientific, engineering, logistics, and financial services.
"We're thrilled to have included OASIS Pools 1 & 3 into our diverse foundation of contract vehicles," said Eric Wheeling, Program Manager. "This award provides NextGen Federal Systems yet another avenue for strategic growth and delivers essential capabilities and cutting-edge solutions that address government challenges."
This award allows NextGen to leverage its expertise and 10-year history of superior support to mission spaces of the U.S. federal government, including organizations focused on protection and defense, quality of life, commerce, and natural resources.
An overview of OASIS from GSA can be viewed at: https://www.youtube.com/watch?v=9xJ5_p3Ues0&feature=emb_logo.
###
NextGen is an innovative information technology and professional services provider specializing in agile software solutions as well as comprehensive mission and business support services. We design, develop, implement, and manage information technology (IT) solutions that measurably improve our customer's organizational performance. Our core areas of expertise include C5ISR Software Development, Modern IT Systems Engineering, Modeling and Simulation, Cyber Security & Data Management. NextGen adheres to industry standard practices and processes including CMMI, ISO, and PMBOK.
For more information on NextGen, contact Eric Wheeling at 410.422.3093.