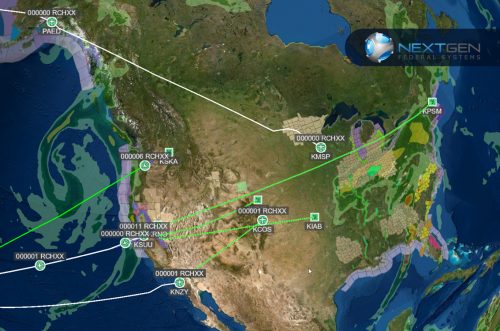 Morgantown, W.Va., March 2021 – NextGen Federal Systems (NextGen) received the Phase VII task order award for the Global Awareness and Decision Support (GLADS) endeavor supporting the 618th Air Operations Center (AOC/TACC). NextGen will carry out this effort, with assistance from AGI, to provide a multi-domain decision support tool for the planning and execution of the Air Mobility Command (AMC) mission.
GLADS integrates authoritative data sources and provides analysis enabling decreased workload and increased effectiveness. NextGen is expanding on existing capabilities and providing improved decision support tools, analytics, and integrating more data from authoritative sources on all Air Force domains. The GLADS Phase VII objective is to provide greater insight to windows of advantage where friendly forces and capabilities can enable maneuver or set conditions for decisive, shaping, and sustaining operations. This will address the challenges of both normal operations and the potential full spectrum conflict where operators need a shared understanding and visualization of an ever-changing battlespace to better execute the logistics kill chain.
"While working directly with AMC, they expressed confidence in the NextGen team by acknowledging our ability to go the extra mile to help along with our rigorous approach to success and capability despite having to adapt to the COVID-19 pandemic with zero negative impact on our ability to deliver," said Robert Tammaro, NextGen Senior Project Manager. "Even the NextGen leadership facilitated multiple virtual exchanges to assist in understanding the customer's fielded capabilities and lending our unique expertise in Artificial Intelligence and experience gained in accessing AMC unique authoritative data sources to accelerate and focus current efforts."
GLADS is an Indefinite Delivery, Indefinite Quantity (IDIQ) contract with an option year one of a five-year period. This task order award covers new capabilities to be delivered over multiple software releases during the fiscal year 2021 with the potential for more interest from other Combatant Commands (COCOMs) and their Air Operations Centers (AOCs). With this endeavor NextGen will continue to grow its DevSecOps initiatives and C2 Portfolio.


###
NextGen is an innovative information technology and professional services provider specializing in agile software solutions as well as comprehensive mission and business support services. We design, develop, implement, and manage information technology (IT) solutions that measurably improve our customer's organizational performance. Our core areas of expertise include C5ISR Software Development, Modern IT Systems Engineering, Modeling and Simulation, and Cyber Security & Data Management. NextGen adheres to industry standard practices and processes including CMMI, ISO, and PMBOK.
For more information on NextGen, contact Robert Tammaro at (618) 407-2557.