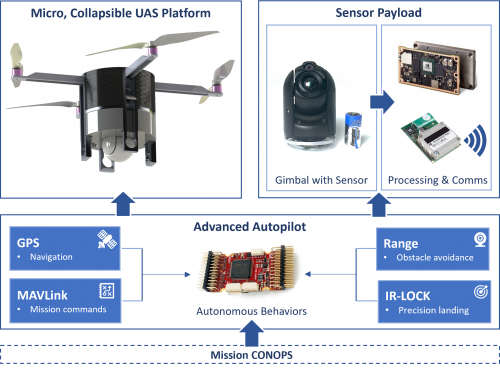 Morgantown, WV, July 2021 – NextGen Federal Systems (NextGen) has been awarded a Small Business Innovation Research (SBIR) Phase II contract by the Army Research Laboratory (ARL). NextGen will develop the Intelligent Multirotor Autonomous Ground Relocatable Sensor (IMAGRS) system in collaboration with West Virginia University (WVU). The team's mission is to design an integrated, small form-factor, collapsible Unmanned Aircraft System (UAS) platform capable of acting as a mobile, autonomous, multi-spectral imaging sensor.
The IMAGRS solution provides a UAS /mobile ground sensor that rapidly deploys itself and then autonomously identifies and relocates to optimal surveillance locations to perform ISR tasks. The solution is comprised of a modular framework installed on a high-performance single-board computer (SBC) embedded inside the micro-collapsible platform. The SBC interfaces with high fidelity Electro-Optical (EO) and Infra-Red (IR) sensors, tactical communication devices, and an onboard autopilot. Onboard Computer Vision (CV) and Machine Learning (ML) algorithms are leveraged to conduct target detection and tracking. Critical enabling technologies, such as dual-use components and composite materials, enable the platform to meet demanding flight characteristics and mission constraints. Its transformable design enables the system to be pre-packaged and deployed from mounted cylindrical containers.
The goal of IMAGRS is to combine remote sensor delivery and autonomously execute missions, which supports future operational areas of persistence, versatility, survivability, and reduced risk to human life. UASs acting as relocatable sensors will support the modernization of Battlespace Awareness.
"IMAGRS provides informed, autonomous operations by utilizing advanced CV and ML techniques at the edge, offering improved mission success without the need for a human in the loop," said Daryl Everding, R&D Division Manager at NextGen.
In addition to military operations, the civilian government and commercial sectors can leverage IMAGRS. For example, the rapid deployment capability can assist first responders and law enforcement agencies.
###
This media release is based upon work supported by the Army Contracting Command – Aberdeen Proving Ground (ACC-APG) under Contract No. W911QX20C0027. Any opinions, findings and conclusions or recommendations expressed in this media release are those of the author(s) and do not necessarily reflect the views of the ACC-APG.
NextGen is an innovative information technology and professional services provider specializing in agile software solutions as well as comprehensive mission and business support services. We design, develop, implement, and manage information technology (IT) solutions that measurably improve our customer's organizational performance. Our core areas of expertise include C5ISR Software Development, Modern IT Systems Engineering, Modeling and Simulation, Cyber Security & Data Management. NextGen adheres to industry standard practices and processes including CMMI, ISO, and PMBOK.
For more information on NextGen, contact JP Lapps at (443) 502-8649.