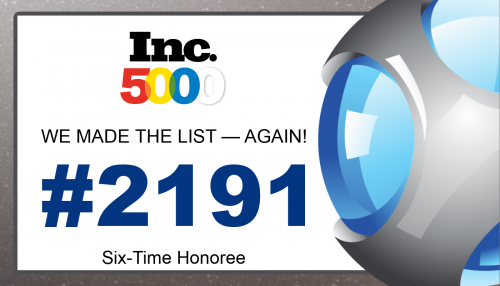 Morgantown, W.Va., August 2021 – NextGen Federal Systems, LLC (NextGen), an innovative information technology and professional services provider headquartered in Morgantown, WV, was ranked #2191 on the annual Inc. 5000 list, the most prestigious ranking of the nation's fastest-growing private companies. This is the sixth consecutive year that NextGen's percentage revenue growth earned them placement on the list.
"NextGen's recognition as one of the top 5000 fastest-growing companies in America is a great testament to our staff and the great work they do. Our expedient growth and success are due to our people, all of whom make us the great company that we are," stated Dave Bissett, Vice President of Corporate Operations.
NextGen was founded in 2011 by Jay Reddy, NextGen CEO. Over the past ten years, NextGen has grown from a one-person business to nearly 200 employees across 25 states with six office locations in Morgantown, West Virginia; Dayton, Ohio; O'Fallon, Illinois; Annapolis Junction, Maryland; and Aberdeen, Maryland.
Inc. 5000 noted the significance of making the list this year, stating, "For decades, Inc. has welcomed the fastest-growing private companies in America, and this year's set of winners places the bar very high indeed. Companies that made the list, on average, have grown sixfold since 2016. During a stretch when the economy grew just 15 percent, that's a result most businesses could only dream of."
Complete results of the Inc. 5000, including company profiles and an interactive database, can be found at www.inc.com/inc5000. Inc. 5000 will hold live networking events this fall In Los Angeles, California; Dallas, Texas; and Miami, Florida, for honorees to accept their awards and celebrate together.
###
NextGen is an innovative information technology and professional services provider specializing in agile software solutions as well as comprehensive mission and business support services. We design, develop, implement, and manage information technology (IT) solutions that measurably improve our customer's organizational performance. Our core areas of expertise include C5ISR Software Development, Modern IT Systems Engineering, Modeling and Simulation, Cyber Security & Data Management. NextGen adheres to industry standard practices and processes, including CMMI, ISO, and PMBOK.
For more information on NextGen, contact JP Lapps at 410.530.3506.