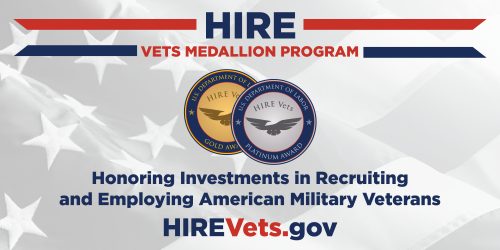 Morgantown, W.Va., November 2021 – NextGen Federal Systems, LLC (NextGen) was recognized by U.S. Secretary of Labor Martin J. Walsh as one of 849 recipients of the 2021 HIRE Vets Medallion Award during a virtual award ceremony presented by the U.S. Department of Labor.
NextGen earned the gold award after applying earlier this year. The Honoring Investments in Recruiting and Employing American Military Veterans Act (HIRE Vets Act) Medallion Program is the only federal award program that recognizes employers who successfully recruit, hire, and retain veterans.
"With nearly a third of our company's staff having served our nation in uniform, NextGen eagerly supports the HIRE Vets initiative as they are invaluable team members who possess a wealth of technical and leadership skills.", said Eric Wheeling, Program Manager (USMC Veteran). "It is our honor to recognize all veterans for their tremendous heroism, sacrifice, and service."
NextGen joins 848 other companies from 49 states, plus the District of Columbia, who have shown a commitment to hiring veterans, ensuring that they have a long-term career and growth plan that uses the diverse skills they acquired through their military service.
Recipients of the 2021 HIRE Vets Medallion Award meet rigorous employment and veteran integration assistance criteria, including veteran hiring and retention percentages; availability of veteran-specific resources; leadership programming for veterans; dedicated human resource efforts; pay compensation and tuition assistance programs for veterans. More than 1,400 employers have earned a HIRE Vets Medallion Award since 2018.
###
NextGen is an innovative information technology and professional services provider specializing in agile software solutions as well as comprehensive mission and business support services. We design, develop, implement, and manage information technology (IT) solutions that measurably improve our customer's organizational performance. Our core areas of expertise include C5ISR Software Development, Modern IT Systems Engineering, Modeling and Simulation, Cyber Security & Data Management. NextGen adheres to industry standard practices and processes including CMMI, ISO, and PMBOK.
The HIRE Vets Medallion Award is earned by businesses that demonstrate unparalleled commitment to attracting, hiring and retaining veterans. The 2022 HIRE Vets Medallion Award application period will open to employers on Jan. 31, 2022. For more information about the program and the application process, visit HIREVets.gov.
There are different awards for large employers (500-plus employees), medium employers (51-499 employees), and small employers (50 or fewer employees). Additionally, there are two award tiers: platinum and gold.
For more information on NextGen, contact Eric Wheeling at 410.422.3093.