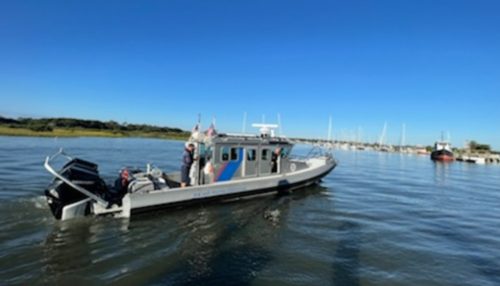 Morgantown, W.Va., October 2021 – NextGen Federal Systems (NextGen) was awarded their second task order through the OASIS vehicle, supporting the US Customs and Border Protection (CBP) Air and Marine Operations (AMO) office, valued at approximately $61.5M for up to five years of performance. This is NextGen's largest award to date and their first with the Department of Homeland Security (DHS). The successful capture of this effort results from a strategic partnership with Applied Insight (AI).
This award, led by Senior Program Manager and former US Army Provost Marshal Art Gibbs, positions NextGen to provide mission support to AMO pilots, mariners, and surveillance operators who safeguard the country and communities from terrorist attacks and the unlawful movement of drugs, contraband, and people.
Together, NextGen and AI support the modernization and consolidation of Air and Marine Operations by providing services including program management, acquisition, organizational and business processes, maintenance management, information systems, and budget/financial systems. The team will work directly with a range of internal and external personnel to identify organizational needs and implementation strategies for process improvement. NextGen will then assist in the implementation of those solutions within the Air and Marine Operations organization.
"NextGen is excited to be working with our new mission partner, Air and Marine Operations, along with our teammate Applied Insight," said Sean Sullivan, Division Manager. "This new contract represents a key win on the OASIS contract vehicle and an opportunity to leverage NextGen's technical and program C5ISR expertise in a new and exciting mission space."
Award of the task order grew the NextGen family by more than 12%, resulting in NextGen achieving a milestone of 200 employees, which they will exceed due to new hires to the contract. It also allowed for a seamless transition of a decades-long experienced workforce, continuing to support critical acquisition and systems engineering milestones for CBP AMO without any loss of operational inertia.
###
NextGen is an innovative information technology and professional services provider specializing in agile software solutions as well as comprehensive mission and business support services. We design, develop, implement, and manage information technology (IT) solutions that measurably improve our customer's organizational performance. Our core areas of expertise include C5ISR Software Development, Modern IT Systems Engineering, Modeling and Simulation, Cyber Security & Data Management. NextGen adheres to industry standard practices and processes including CMMI, ISO, and PMBOK.
For more information on NextGen, contact Art Gibbs at 434.284.3597.