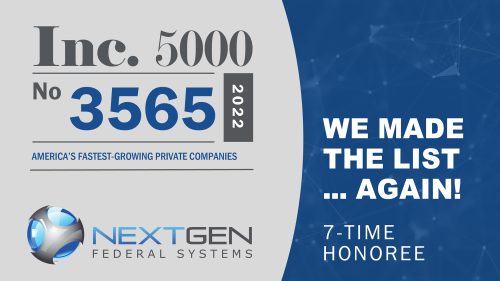 Morgantown, W.Va., August 2022 – NextGen Federal Systems, LLC (NextGen) is once again named on the Inc. 5000 list as one of America's Fastest Growing Private Companies for the seventh consecutive year. NextGen, an innovative information technology and professional services provider headquartered in Morgantown, WV, was ranked at #3536 on the prestigious annual list by Inc. magazine.
NextGen was founded in 2011 by Jay Reddy, CEO, and has grown from a one-person business to nearly 200 employees across 25 states with six office locations in WV, OH, IL, and MD. For seven years, NextGen's percentage revenue growth has earned them placement on the nationally recognized list. Inc. 5000 ranks companies according to a 3-year percentage revenue growth with the current growth for NextGen at 145%. Companies recognized this year saw spectacular growth which Inc. acknowledged as "triumph over change."
Inc. noted the resilience of companies in today's economy, stating, "A strength runs through America's small businesses that defies the forces twisting our economy into such weird knots."
NextGen attributes its success to their team and the leading-edge work that the company provides to their diverse customer base in the Defense, Intelligence, Civilian Government, and Commercial markets.
"We are honored to receive this recognition for seven consecutive years," said Chetan Desai, COO of NextGen Federal Systems. "Our sustained growth is a testament to our team that continues to remain innovative while delivering transformative solutions to our customers. I congratulate our staff for this recognition."
Complete results of the Inc. 5000, including company profiles and an interactive database, can be found at www.inc.com/inc5000/2022.
###
NextGen is an innovative information technology solutions and services provider specializing in agile software solutions as well as comprehensive mission and business support services. We design, develop, implement, and manage information technology (IT) solutions that measurably improve our customer's organizational performance. Our core areas of expertise include C5ISR Software Development, Modern IT Systems Engineering, Modeling and Simulation, Cyber Security & Data Management. NextGen adheres to industry standard practices and processes including CMMI, ISO, and PMBOK.
For more information on NextGen, contact JP Lapps at 410.530.3506.