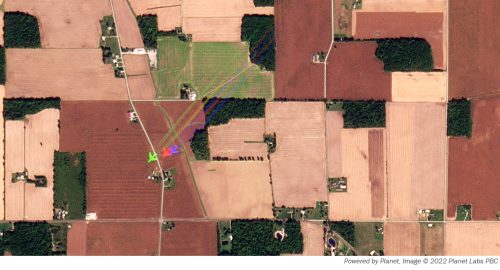 Morgantown, WV (November 2022) – NextGen Federal Systems (NextGen) is applying machine learning (ML) techniques to enhance forecasting of contrail formation based on aircraft attributes and weather conditions. A contrail is a trail of condensed water formed from an aircraft at high altitude, seen as a white streak against the sky. Contrail formation affects military air operations because contrails make aircraft more easily detectable, which can increase mission risk. Predicting contrail formation is important in planning all-domain military operations to achieve desired aircraft mission outcomes.
This project is the first ML effort being natively developed in the US Air Force Weather's (AFW) Machine Learning Platform (MLP); which is also being developed by NextGen. The MLP, hosted within the AWS GovCloud region, supports AFW's drive to develop advanced machine-learning strategies to improve forecast accuracy. This project, in addition to several other ongoing projects, exemplifies NextGen's role in AFW's system modernization and advanced research initiatives.
"Weather can often be the deciding factor in what asset from which domain to task in a given situation. NextGen is employing our ML expertise to solve a difficult forecasting challenge so that decision-makers can mitigate mission impacts," said Bob Farrell, Senior Program Manager and Technical Director at NextGen.
ML requires "training data" to inform the automation algorithms so that they can learn. To prepare the ML training data, NextGen has innovated and devised a streamlined process for finding planes and associated contrails using satellite imagery data, provided by Planet.com. Planet's user interface and data APIs enable NextGen to map Automatic Dependent Surveillance-Broadcast (ADS-B) aircraft locations to specific imagery to check for, identify, and catalog contrails which are used as truth for training the ML models. Once the models are trained, the algorithms will be used to automatically forecast and identify when contrails may form, providing improved mission planning to minimize inflight risks.
###
NextGen is an innovative information technology solutions and services provider specializing in agile software solutions as well as comprehensive mission and business support services. We design, develop, implement, and manage information technology (IT) solutions that measurably improve our customer's organizational performance. Our core areas of expertise include C5ISR Software Development, Modern IT Systems Engineering, Modeling and Simulation, Cyber Security & Data Management. NextGen adheres to industry standard practices and processes including CMMI, ISO, and PMBOK.
For more information on this project, contact Daryl Everding at (513) 392-1228.