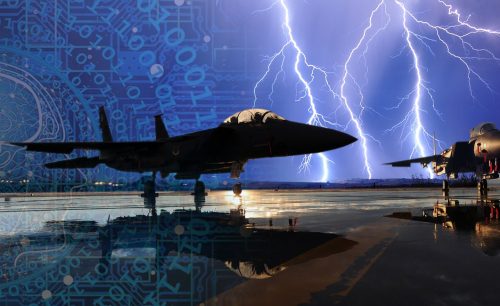 Morgantown, WV (November 2023) – NextGen Federal Systems (NextGen) is proud to announce that it has been awarded its first Small Business Innovation Research (SBIR) Phase III contract by the U.S. Air Force making it our Research and Development (R&D) Division's largest contract award to date which represents a significant milestone for the company.
This transformative project deploys, sustains, and continually enhances a cyber-secure Weather Machine Learning Operations (Wx MLOps) production platform, along with the Global Synthetic Weather Radar (GSWR) Real-Time System (RTS) to meet Air Force Weather (AFW) mission needs. The project encompasses an array of activities, including the coordinated actions of a skilled team applying a combination of Machine Learning, data science and engineering, and continuous DevSecOps software development.
"NextGen is excited to embark on this groundbreaking project, and through collaboration with the United States Air Force, we aim to enhance weather intelligence capabilities, ultimately contributing to the success of military operations," said NextGen Technical Director Bob Farrell.
NextGen's experience and successful track record in collaborating with AFW on various cloud-based projects and machine learning contracts, including the Weather Machine Learning Platform SBIR Phase II extension, AFWERX Tactical Funding Increase Research to Operations, and the GSWR RTS Research to Operations efforts, highlights the company's ability to deliver low-risk, cost-effective solutions for AFW. By developing accurate and timely weather intelligence for military planning and execution, NextGen will sustain and build on the work already accomplished to deliver a world-class ML Operation that provides accurate weather insights in support of US strategic programs.
"NextGen Federal Systems is proud to be at the forefront of innovation, and this award represents our commitment to advancing the field of weather forecasting and machine learning," said Chetan Desai, NextGen Chief Operating Officer. "The company looks forward to continuing its collaboration with the U.S. Air Force and other stakeholders to create more groundbreaking solutions for the future."
For more information about NextGen Federal Systems and our commitment to innovation, please visit www.nextgenfed.com.
###
NextGen is an innovative information technology solutions and services provider specializing in agile software solutions as well as comprehensive mission and business support services. We design, develop, implement, and manage information technology (IT) solutions that measurably improve our customer's organizational performance. Our core areas of expertise include C5ISR Software Development, Modern IT Systems Engineering, Modeling and Simulation, Cyber Security & Machine Learning. NextGen adheres to industry standard practices and processes including CMMI, ISO, and PMBOK.
For more information on this project, contact Daryl Everding at (513) 392-1228.